Thank You to all Our Amazing Volunteers

For over 72 years, the Christmas Bureau of Edmonton has consisted of generous volunteers who have helped us grow into what we are today; a community of hardworking people devoted to one tradition - providing a festive meal to Edmonton families in need. Your continual support and dedication has ensured that those in need at Christmas time have the food to partake in the simplest of traditions - eating together.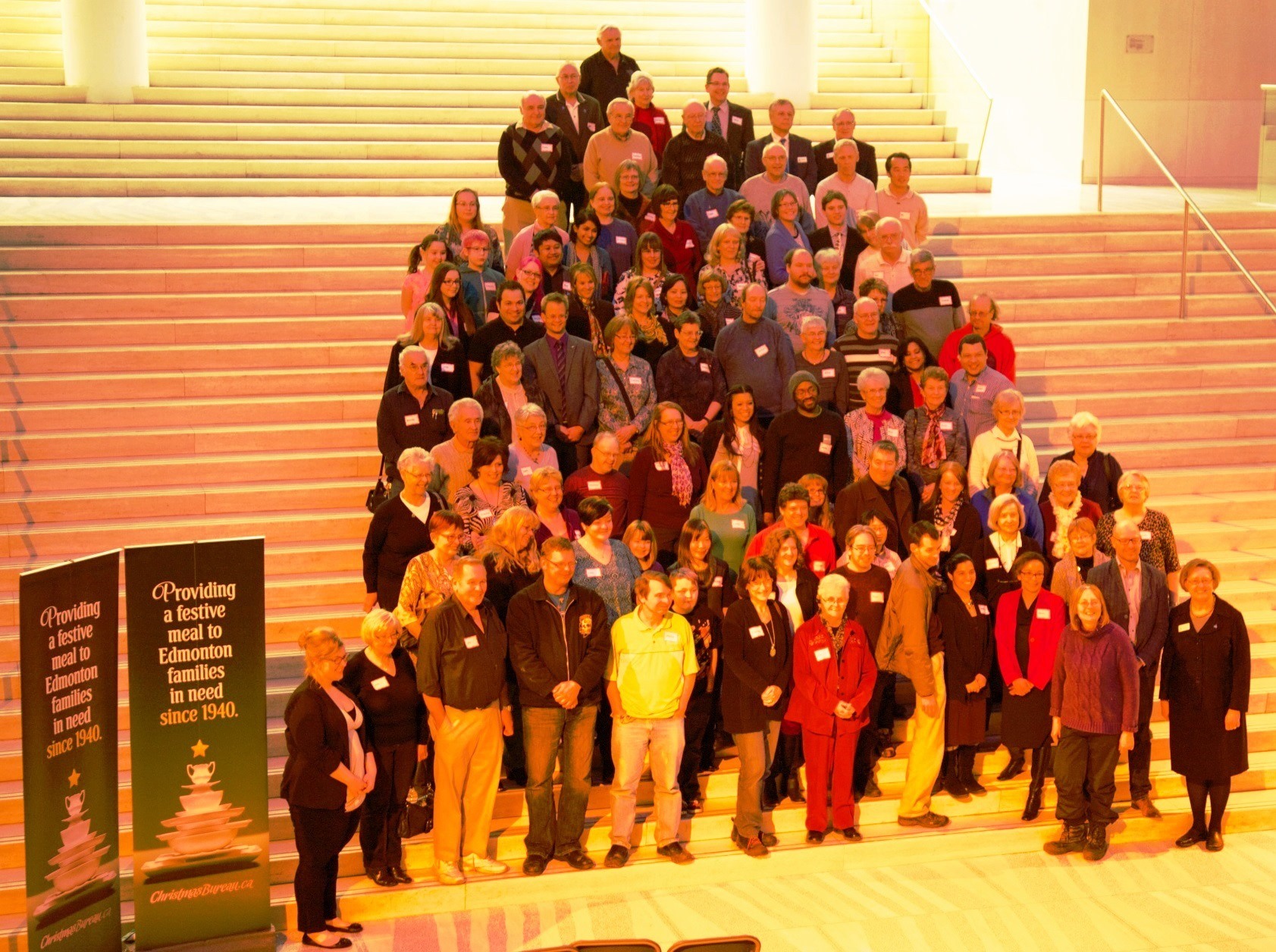 The Christmas Bureau of Edmonton is led by a Board of Directors comprising of 24 community/social service volunteers.
Seven committees govern the operation of the Christmas Bureau of Edmonton
► Communications
► Finance
► Fund Development
► Governance
► Human Resources
► Social Services
► Volunteer
For the 2013 Campaign, 648 volunteers were engaged with the Christmas Bureau from November 1 to December 24 providing 5,460 volunteer hours.
Volunteers assist in the office, during our Walk-In Days, act as Ambassadors at our Donation Desks and special events and help pack and deliver food hampers.
---
2014 Volunteer Opportunities

Volunteer registration for the 2014 Campaign will commence in September 2014 when the Seasonal Volunteer Coordinator is on site.
Below is information of various volunteer roles that may be available for the 2014 Campaign.
Should you have a special skill that may assist us, please feel to contact us at 780 454 6074.
Donation Desk Program click here for more info
Donation Desk Program
The multi location Donation Desk Program was established by the Christmas Bureau of Edmonton's Fundraising Committee as an initiative to provide convenience for Christmas Bureau donors and to provide a visibility and awareness to the citizens of Edmonton about the Christmas Bureau and what we do.
Donation Desk Ambassadors
Donation Desk Ambassadors are the front line for information about the Christmas Bureau of Edmonton. Donation Desk Ambassadors work in pairs at various satellite locations throughout the City of Edmonton accepting donations and providing information.
Donation Desk Ambassador Volunteer Job Description
Donation Desk Team Leaders
Donation Desk Team Leaders help manage the day to day operation of the donation desk program. Team Leaders act as liaison and coach for the Donation Desk Ambassadors. Donation Desk Team Leaders also provide scheduling assistance and help backfill shifts as required. Team Leaders work in groups of three and are assigned to one donation desk location. If you are organized, computer savvy and would like to increase your leadership skills, the Donation Desk Team Leader is an ideal volunteer opportunity.
Donation Desk Team Leader Volunteer Job Description

Walk-In Days Volunteers click here for more info
Walk-In Days Program
The 'Walk-In Days' Program is a final opportunity for families who have been missed, to apply for assistance in the form of food certificates, toys for children age 12 and under and a gift card for youth aged 13 – 17 years. The Christmas Bureau will be holding this program at the Amiskawicy Academy (101 Airport Road) on December 22 and December 23. Each day over 700 families will go through a screening process, and if eligible will be provided Christmas assistance. Volunteering for this program is for those seeking a fast-paced and role-specific direct client service opportunity. The Walk-In Days program is ideal for family (no children under the age of 13), groups and youth volunteers.

Location: Amiskawaciy Academy , 101 Airport Road (City Centre Airport)
Parking/Traffic Controller
As the Christmas Bureau of Edmonton are guests at Amiskawaciy Academy, it is imperative that all parking, traffic and noise issues are addressed. Volunteers are required to assist with directing traffic (both vehicular and pedestrian) as well as crowd control on the exterior of the building. This volunteer position is an outside position, so please dress for the weather.
Parking/Traffic Controller Volunteer Position Description
Greeter
Do you love talking with and helping people? This position is perfect for someone who can assist clients by ensuring they have the correct information to obtain assistance.
Greeter Volunteer Position Description
Front of Line Attendants
Help clients out by assisting them in completing the necessary paperwork to obtain assistance.
Front of Line Attendant Volunteer Position Description
Intake Workers
Interview, screen, verify and approve potential clients to ensure they meet the eligibity requirements of the Christmas Bureau.
Intake Worker Volunteer Position Description

Data Entry
Assist by processing applications on the computer while Intake Workers interview clients.
Data Entry Volunteer Position Description

Interpreters
If you speak a second language, then volunteering at Walk-In Days would be ideal. Interpreters are needed for all shifts and all languages. Critical languages are: Vietnamese; Cantonese; Slavik Languages; and Farsi
Interpreter Volunteer Position Description

Certificate Processing Area
Volunteers assist in the processing of food and teen card certificates for qualified clients. The Certificate Processing volunteer position requires accuracy and focus.
Certificate Processing Volunteer Position Description
Certificate Runner Volunteer Position Description

Toy Distribution Area
Volunteers assist with gathering the proper toys for the client.
Toy Packer Volunteer Position Description
Toy Runner Volunteer Position Description

Number Callers
After the clients have been approved for certificates and/or toys, Number Callers gather all the pieces and present to the clients their certificates and/or toys.
Number Caller Volunteer Position Description

Children's Activity Area
While the parents are going through the application process, a children's activity area is set up for kids to partake in various creative activities. If you are creative and have the patience to supervise children, this activity is for you.
Children's Activity Area Volunteer Position Description

Hospitality Attendants
A refreshments area is set up during Walk-In Days for clients, volunteers and guests. Volunteers are needed to assist clients and guests with coffee, tea and snacks.
Hospitality Attendant Volunteer Position Description
Office Support click here for more info
Office Support
The efficiency of the Christmas Bureau would not be possible without the assistance of volunteers in the office. There are many opportunities for individuals seeking to improve their administrative skills, interact in a professional work environment, and bring much needed support to the Christmas Bureau of Edmonton.
The Christmas Bureau of Edmonton is located in northeast Edmonton and we are hosted by Servus Credit Union at 4230 118 Avenue (thank you Servus Credit Union for hosting the Christmas Bureau for 16 years). All office support volunteer activities are at the Christmas Bureau Office. We are located on the second floor (stairs, no elevator) and parking is available in the community. Bus service is also available on 118 Ave.
Volunteer shifts in the office are from 9 am to noon and from 1 pm to 4 pm, Monday to Friday, excluding Statutory Holidays.

Certificate Preparation
Volunteers who pride themselves on accuracy and enjoy team work will thrive in this volunteer role. Working in pairs, volunteers help prepare, sort, organize and mail out certificates for clients. This volutneer position is available weekdays, excluding Statutory Holidays, from mid November to mid December.
Cerficate Labeller Volunteer Job Description
Cerficate Stuffer Volunteer Job Description
Mail Out Volunteer Job Description

File Clerk
If you enjoy the challenges of an office setting, are organized and task oriented, helping the Christmas Bureau organize and file applications is for you. Opportunities to help with filing in the Christmas Bureau office are available weekdays, excluding Statutory Holidays, from November 8 through to December 16.
File Clerk Volunteer Job Description

Hamper Sponsorship Program
The Hamper Sponsorship Program is designed to match community and corporate groups with clients needing assistance at Christmas time. The Hamper Sponsor Clerk assists the Hamper Sponsor Coordinator with processing application of sponsors and matching them with designated clients. The Hamper Sponsor Clerk is required to have knowledge in data base, email and word processing. Communication skills, both written and verbal, are required. As there is extensive training involved with this volunteer position, we ask that Volunteers be available for one shift per week for the duration of the campaign.
Hamper Sponsor Support Volunteer Job Description
Events Administration Support
Assisting the Campaign Team, the Events Administration Support volunteer provides advance administrative support including liaison with outside agencies and media. The Events Administration Support volunteer is required to have advanced communication skills, verbal and written, excel, word and Microsoft office knowledge. As this volunteer position requires extensive training, we ask that the Events Administration Support Volunteers be available for one shift per week for the duration of the campaign.
Event Administration Support Volunteer Job Description


---
Christmas Bureau of Edmonton Volunteer Policies
The Christmas Bureau of Edmonton has formally adopted the Canadian Code for Volunteer Involvement. The Code has important elements that articulate values, guiding principles and organizational standards for volunteer programs in non-profit and volunteer sector organizations.
To learn more about the Canadian Code for Volunteer Involvement, please visit Volunteer Canada.

Affilications/Membership
The Christmas Bureau of Edmonton is associated and a member of:

2013 GOAL
$1.8 Million
As Edmonton's Christmas charity, we truly are about neighbour helping neighbour during the festive season.
Please donate and help provide a festive meal to 61,000 Edmontonians in need.